Keystone Solar
5 MW (AC) project located in Lancaster County, PA.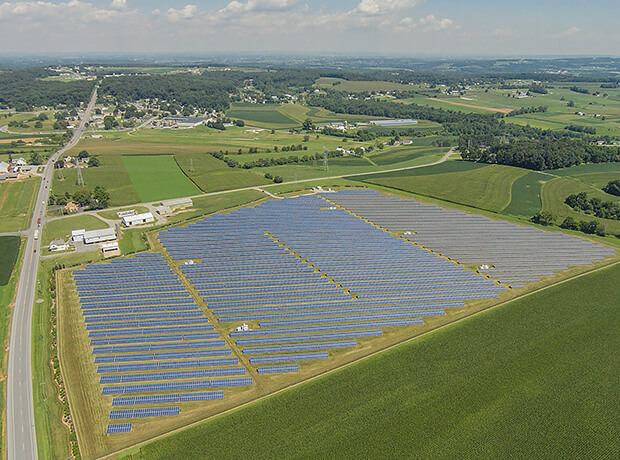 Description
Keystone Solar is one of the first and largest customer driven utility-scale solar projects in Pennsylvania. Exelon Generation and Community Energy's retail marketing division committed to buy the output and back the financing for the project, which supplies the highest-quality clean electricity – local solar power – to customers who sign up to choose Community Energy as their electric supplier. Watch the Construction Timelapse Video. Several high-profile customers committed to purchase Renewable Energy Credits from the project, including Drexel University, Franklin & Marshall College, Eastern University, Clean Air Council, the Philadelphia Phillies, Millersville University, Marywood University and Juniata College.
The Keystone Solar project was the recipient of the PV America East 2013 Project of Distinction Award. This is a national award that recognizes major achievements in the U.S. solar market. Keystone Solar was one of three projects selected out of more than 130 submitted. Also, Columbia University School of Business produced a business case study on the project, the first case study in the U.S. on a utility-scale solar project.
Vegetative buffering designed with native grasses, shrubs and trees, allows the solar project to blend into the local landscape. Robust buffering schemes are a key feature of Community Energy's solar project development.
Keystone Solar has been online since 2012.

Community Benefits
Largest customer driven utility-scale solar project in Pennsylvania.
Provides power to Philadelphia Phillies, 6 local universities and the Clean Air Council.
Received national PV America East 2013 Project of Distinction Award.