Solar panel installations are booming across the USA thanks to federal, state, and local incentives and the falling cost of the technology. Long Island, NY has become a particularly attractive place to go solar because of LIPA's rebate for solar panels. Meanwhile, solar leasing programs have made it easier than ever to go solar by eliminating the potentially prohibitive up-front costs associated with installing a solar system (not to mention the administrative/paperwork headaches obtaining the rebates can entail). This article is an overview of the benefits of installing solar panels on Long Island, as well as the options that they have available.
Why should you consider solar panels in Long Island?
There are essentially 2 reasons that a Long Island resident might consider installing solar panels. The first reason is the personal & financial benefits that a solar system affords its owners, and the second is the broader social & environmental impact of doing so.
The benefits of going solar in Long Island for home and business owners
As pointed out above, growing demand for solar panels across the US can be largely attributed to the falling cost of the technology and increased government support for renewables. Thanks to these things, solar panels are now more affordable than ever to install, which means that the power that they produce can be less expensive than purchasing power from the electricity grid. This in turn means that homes that switch to solar will actually save money on their power bills. Furthermore, with zero-down lease options available, savings are possible even without putting aside cash or taking out loans to have a system installed.
The environmental benefits of solar panels in Long Island
Solar panels are a great clean energy option for Long Island residents. A fuel-free means of power generation, they do not emit any pollutants when producing electricity, and systems require virtually no maintenance besides occasional cleaning and inverter replacement 1 or 2 times over the course of their 20+ year lifespan. The more people who install solar power systems in Long Island, the less dependent the region will be on generating electricity using natural gas, nuclear power, or coal.

Solar panels for Long Island residences: What are the options?
If you're a Long Island resident thinking about going solar, you can opt to either purchase a system, or you can enter into a solar panel leasing arrangement. In either case, the home or business that has the system installed will benefit from increased energy independence and electricity bill savings. Both purchase and leasing options are available through Community Energy, which is in a partnership with nation-leading solar installation leader SolarCity.
Solar leasing in Long Island
Thanks to innovation in the finance sector by companies such as SolarCity it is now easier than ever for homes and businesses across the USA–including Long Island residents–to have solar systems installed.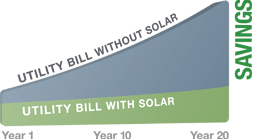 Solar leasing agreements mean that you do not have to put money down to have a solar system installed, while still benefitting from the electricity price stability and power bill savings that having a system affords.
How does that work? As the image to the right demonstrates, once you have a system installed, your power bill from your utility will shrink because a chunk of your electricity will come from your solar panels instead of the utility, and the rate you pay for solar electricity will increase more slowly than the utility electricity will. This means lower power bills over the life of your system compared to not having solar power.
Purchasing a solar system on Long Island
Thanks to generous tax credits through the federal government and New York state, not to mention from LIPA, purchasing a solar panel system has never been more affordable in Long Island. If you have the money to invest in buying a system, there are substantial savings waiting to be had over the course of the system's lifetime–over 20 years. Once the system has 'paid itself off' (which can happen in as little as 5-7 years in Long Island), all of the electricity that the system produces is essentially free power for your household or business.