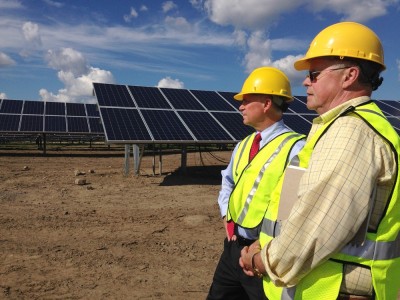 by David Sommerstein, in Potsdam, NY
Oct 02, 2014 — If you have driven by the airport outside Potsdam, N.Y., you could not have missed it—hundreds of solar panels gleaming in a corner by the runway.
The solar array is a public-private partnership on land owned by Clarkson University. When it goes online next month, it will generate enough zero-emissions electricity to account for 10 percent of Clarkson's power needs, equivalent to roughly 350 homes. This will be the largest solar array in N.Y.'s North Country.
Solar power is booming across New York. The state's solar capacity is up 68 percent over last year. But nearly all of that, including Clarkson's project, is made possible by state subsidies. Solar energy
is not profitable on its own right now. So when will solar become self-sufficient?
* * *
To find out, let's start at the Potsdam airport, where workers are still pouring concrete to fence in this 12-acre parcel.
You almost can't see the runway because 7,700 solar panels—the same kind you'd see on the roof of a house—are in the way. They are like sculpture, shiny, wavy ribbons that follow the contour of the land. And they are almost ready to make low-carbon emissions electricity.
"There are no moving parts. There's no noise. There's no fuel. They're just going to sit here and produce power for 25-30 years," said Tom Tuffy, vice-president for development for Community Energy, a private company based in Pennsylvania.
Community Energy built this array for about $5 million. It cleared the project with the airport to make sure it doesn't bother landing planes. But to make assure a return on its investment, the company needed a dedicated client—someone who promises to buy the electricity.
That's where Clarkson University comes in, said Chief Financial Officer, Jim Fish. Clarkson signed the 25-year contract to buy this solar power a little less than a year ago. But Fish hasn't seen the final product until today. "Driven by it a couple times and seen the progress, but never been actually on the site," he said. "I was amazed at the size of it. I guess in my mind's eye, I didn't picture it to be as big as this."
Fish says Clarkson won't save much money on its electric bill, but its electrical engineering students will be able to train here. The main point, Fish said, is Clarkson will set an example for sustainability in the face of climate change. "The deal here really wasn't motivated by economics. It was really motivated by the university's desire to purchase more renewable local energy and leave a smaller carbon footprint."
Across New York State this year, there are 142 projects like Clarkson's, which was approved and funded last year. Colleges, cities, and factories are partnering with developers to bring a total of 214 megawatts of new solar energy online. In the last two years, New York has installed more solar power than it did in the previous decade.
But in solar energy production right now, it takes three to tango. There is one more, indispensable partner, the state. New York State, through the New York State Energy and Research Development Authority, NYSERDA, invested almost $100 million in solar power projects this year. Janet Joseph, NYSERDA's vice-president for technology and strategic planning, said solar energy is still not cost-competitive with other sources of electricity, like natural gas and coal.
If the state didn't step in, these solar arrays probably wouldn't exist. For example, NYSERDA gave the Clarkson-Community Energy project $1.6 million of its $5 million cost.
However, the costs of producing and setting up solar arrays in New York are down by a half. Joseph said companies are asking for a smaller state subsidy now; almost 40 percent less than last year.
"That means we are moving towards an end state where we no longer need a ratepayer subsidy. It also tells us that there have been reductions in the prices of these systems, and that companies are sharpening their pencils, quite honestly."
When will solar become subsidy-free? Joseph said New York's goal is "a self-sustaining, vibrant industry by 2023."
Back at the Potsdam solar array, Community Energy's Tom Tuffy said there are more and more people like him out there, willing to invest in solar. In fact, Community Energy built 17 projects in five states last year. This year it hopes to double that total. Tuffy said that is in part due to institutions like Clarkson taking the lead in buying solar. "There will be people in the North Country, who will say, is the North Country suitable for solar? And then people can see that it's reality. And that's when a new technology can start to take off."
It will take a lot of those partnerships and a lot of real, shiny arrays for New York State to take off the training wheels and set solar free in 2023.
SOURCE: by David Sommerstein, in Potsdam, NY / http://www.northcountrypublicradio.org