State Issues Final Permit to Community Energy's 80 Megawatt Solar Plant in Virginia -- Largest Solar Generation Facility in the Mid-Atlantic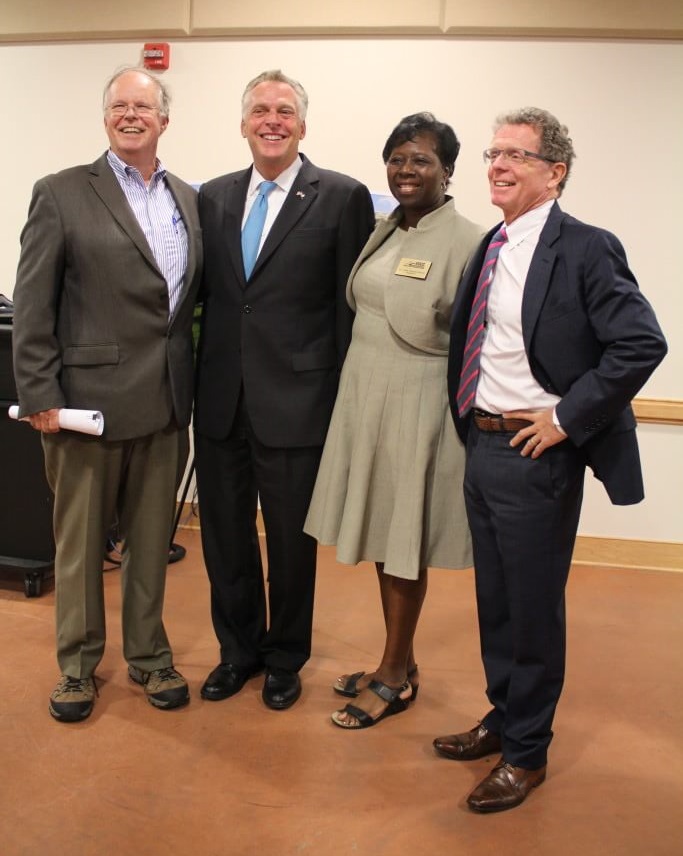 FOR IMMEDIATE RELEASE
Governor of Virginia Terry McAuliffe joins Community Energy's VP of Development Tom Tuffey and President Brent Alderfer, and Linda Thomas-Glover, President of Eastern Shore Community College for an announcement on solar energy.
EASTERN SHORE COMMUNITY COLLEGE, MELFA, VA – Sept. 28, 2015 – Governor Terry McAuliffe today announced that the Virginia Department of Environmental Quality issued a final Permit by Rule for the 80 MW Amazon Solar Farm US East, a solar generation project developed and owned by Community Energy on the Eastern Shore in Virginia.  To be constructed in Accomack County starting later this year, the solar project will be the first of its kind in Virginia and will be the largest solar facility in the Mid-Atlantic.  This project has a Power Purchase Agreement with cloud technology leader Amazon Web Services (AWS).  The power from the project will be delivered into the electrical grids that supply Amazon Web Services' data center activities in the central and eastern US.
"The partnership between Community Energy and Amazon Web Services, which will result in the largest solar facility in the Mid-Atlantic, is indicative of the types of opportunities that my Administration is working toward through our commitment to build a new Virginia economy," said Governor McAuliffe.  "The solar energy industry holds tremendous potential for economic growth in Virginia in the coming years, and I look forward to bringing more projects like this to the Commonwealth."
"This solar project is a first for Virginia and a giant step forward for clean power on the East Coast," said Brent Alderfer, President of Community Energy.  "With this project, Virginia jumps to the lead in attracting the energy industry of the future, with web-technology leader Amazon Web Services as the first customer."
In collaboration with Eastern Shore Community College, Community Energy announced a Vendor/Business Information meeting on November 10th from 8:30 AM to 10:30 AM at the College to explore and explain opportunities for local businesses arising out of this project and future expansion of the solar industry in Virginia.  Vendor businesses are also encouraged to submit information to VendorOpportunitiesVA@communityenergyinc.com.
About Community Energy
Since its inception in 1999, Community Energy has led the development and construction of more than 1,000 MW of wind and solar generating facilities. Community Energy has used a pioneering mix of utility off-take approaches, renewable energy marketing programs, new financing structures, development expertise, and public funding and policy support to accelerate the deployment of renewable energy technologies at scale. With offices in Boulder, Colorado and headquarters in Radnor, Pennsylvania, Community Energy has a strong presence in both western and eastern renewable energy markets. For more information about Community Energy, please visitinfo@communityenergyinc.com.
Community Energy's local project office is at 37 King Street, Onancock, Virginia 23417.  More information can be found at info@communityenergyinc.com or by calling 610-230-0345.
CONTACT:   
Tom Tuffey
info@communityenergyinc.com